From the Otteau Group:
Home Sales Still Rising Despite Rising Rates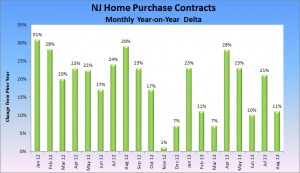 Home purchase contracts recorded their fifth consecutive double digit-increase in August despite recent increases in mortgage interest rates with an 11% rise compared to one year ago (YOY). Considering last year's 29% increase in August, home purchase demand has risen by 43% over the past 2 years. Focusing on 2013, statewide purchase contracts have now risen by 17% YTD indicating the housing recovery is still going strong.