From the Otteau Group:
NJ Home Prices Increase for the 6th Consecutive Quarter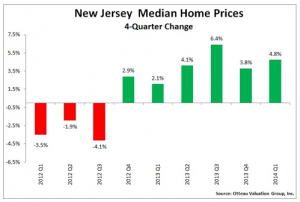 The combined effects of pent-up home purchase demand and tight inventory levels are causing continuing home price increases in New Jersey. Median home prices in the state rose by 4.8% in Q1 compared to one year ago. This marks the 6th consecutive quarterly increase since the housing recovery began. The median home price in New Jersey increased to $275,148 in Q1 up from $262,661 one year earlier.

The recovery in home prices has however occurred primarily in the northern part of the state while southern New Jersey continues to see a much slower recovery. The median home price in northern New Jersey increased to $303,089 in Q1 up from $286,482 one year earlier, whereas home prices in the southern part of the state increased to $187,818 from $185,053 in the prior year.