From MarketWatch:
Where's the money in America? This 3D map will show you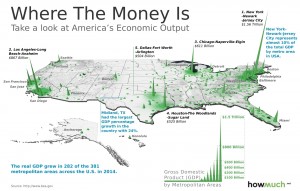 The hardest working states and regions in America? Sorry flyover states, better luck next time. The kings of production remain in the most obvious spots: California, Texas and New York.

The Bureau of Economic Analysis and the U.S. Department of Commerce recently pushed out some statistics on gross domestic product in 2014 for the U.S. based on metropolitan areas. The folks at HowMuch.net took that data and turned it into a map that demonstrates just where the growth in the U.S. is coming from. As shown below, the higher the cone rising from the map, the bigger the GDP in that region.
…
"In analyzing the data, we found that the top 20 metropolitan areas represent over 52% of the total GDP in the U.S.," said Raul Amoros, director of content development at HowMuch.net.

Spiking right out of the map, was the New York region, which includes Newark and Jersey City., with a whopping contribution of $1.56 trillion in GDP and growth of 2.4% in 2014. That region provided nearly 10% of the total GDP for the whole of the U.S.

Just behind it, the Greater Los Angeles area was second with $866 billion in GDP, with a 2.3% rise over 2013. Third and fourth, respectively, was the Chicago metro area, with $610 billion and growth of 1.8%, and the Houston metro area with $525 billion. Dallas stole the fifth spot with $504 billion.