From Jeffery Otteau (http://www.otteau.com):
Contracts to purchase a home in New Jersey declined in May by 23% as compared to the same month last year, falling to their lowest level of the past 6 years. Considering that contract-sales in April recorded their 2nd highest pace on record in New Jersey, this marks a stunning reversal for the housing market raising concerns about the sustainability of the recovery that has been taking shape in the housing market and overall economy since last year.
From the WSJ:
Signs of Improvement Are Fleeting for Mortgage Delinquencies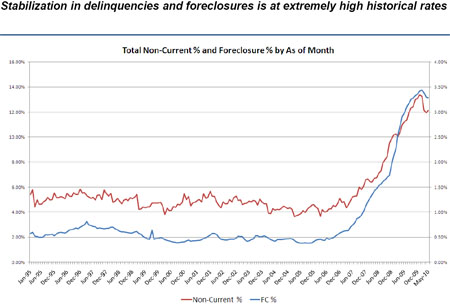 After several months of improvement, mortgage delinquencies rose in May, according to loan data tracked by research firm LPS Applied Analytics.

Nearly 9.2% of all loans were 90 days or more past due at the end of May, up from 9% one month earlier. Those numbers exclude the share of loans in foreclosure, which remained unchanged at 3.18% in May from the previous month.
…
The numbers raise questions about how enduring the improvement in mortgage delinquencies earlier this year will prove to be, particularly because delinquencies typically improve during February and March. The number of loans that were 30 days past due jumped in May from April, while the share of loans that were 60 and 90 days late also increased.