From the Gallup Poll:
Confidence in Housing Market Dips

The volume of U.S. home sales is near the record high seen in 2005, but Americans are much less confident today than they were a year ago about the advisability of buying real estate. Just 52% of Americans say now is a good time to buy a house, down from 71% last April and 81% in 2003. Residents of the East and West are especially likely to consider it a bad time to purchase a new home.
…
Housing looked like a good deal in the recent past when single-family homes were experiencing back-to-back years of double-digit appreciation and, in many markets, savvy investors could flip a home in a matter of months for a hefty profit. Now that the increases appear to be slowing, and home values are leveling off at fairly high prices, prospective buyers are naturally more concerned about paying top dollar. Rising mortgage interest rates — though still "favorable" according to the National Association of Realtors — may also diminish the degree to which Americans feel they can afford a new home.
The recent decline in consumer optimism about the housing market is seen with all major income groups and regions of the country. Across three income levels — high, medium, and low — the percentage of Americans saying now is a good time to buy has declined by about a third just in the last year, and by even more since 2003.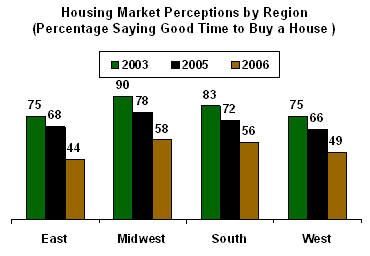 Americans' appetites for the housing market appear to be diminishing, and it's not due to their perceptions of overall economic conditions. Ratings of the national economy are about as negative today as a year ago. Roughly a third today call economic conditions "excellent" or "good" and even fewer believe conditions are improving.