From MSN/Forbes
Get used to it: The seller's market is closing up shop. The days of fat, fast home value increases are gone. Pack away those flipping fantasies.

"The boom is definitely over, there's no debate about that," said Mark Zandi, chief economist of West Chester, Pa.-based research firm Moody's Economy.com. "Now the question is more how hard is it going to land, if it lands at all."

The answer? Depends who you ask — and what location you're talking about. How to feel about it? Depends which side of the market you're on — and what location you're talking about.
…
What about six months from now? A year? Five years? Opinions about the future range from hopeful outlooks to doomsday predictions.

"One possibility is that you get a quick return to normal, which is what the economists for the realtor groups tend to hope for," said Edward Leamer, director of the UCLA Anderson Forecast. "But there's nothing in the historical record that suggests that we're going to get a return to normal anytime soon."

"It is a question of whether it is deep and quick or not so deep and much longer," Leamer added. His prediction: "Not so deep and rather long."

The way Zandi sees it, the market is going to weaken considerably more. "It has been correcting for about a year, and it's got another year to go," he said.
New York Metro Area Prediction
Source: Moody's Economy.com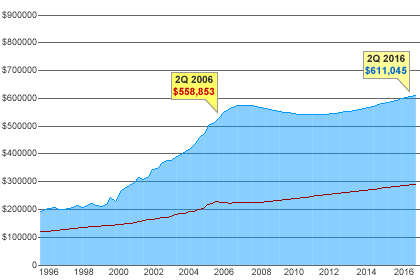 Here is one more graphic I came across this morning: