Note: This is a repost of an older piece.
Decided to spend some time going through the tax records to see if I could determine how condos were affected during the last real estate crash. I'm sure many of you have spent time working with these systems to get an idea of prior sales or to snoop on neighbors.
These sales records represent a history of the real estate market over time. However, trying to clearly illustrate how the market reacted over time using these sales is not easy. Homes are not identical and sales are infrequent. In order to track the market you would need to find a number of comparable homes that have sold multiple times over the period.
Condos and Townhomes are better candidates for this type of analysis. Units are relatively similar, and large scale developments offer numerous sales data points over time.
I pulled the tax records for a handful of large-scale developments that were built during the last real estate boom to see what I could find. The first development that I took a look at is located in Clifton. Selected this one because I remember it being built in the mid to late 80's. I've grouped these together by street and assessment value.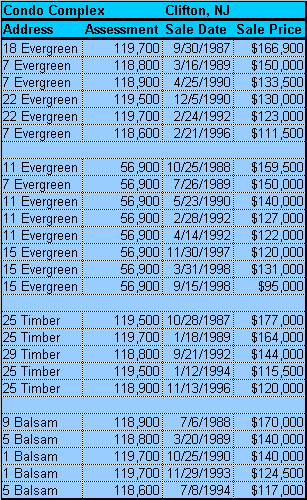 The next development is also in Clifton. At this point I was trying my hardest to try to think of any large-scale development I remember being built at that time. I was hoping that this building would have offered as many datapoints as the complex above, but unfortunately it did not. Interesting nonetheless.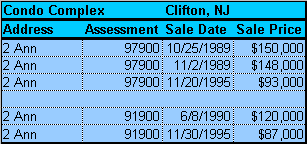 At this point I had racked my brain trying to remember the names and streets of condo developments. I spent some time flying around with google maps trying to pick out large-scale condo developments that fit the timeframe. Just when I was about to give up, this one popped into mind. This is very large scale development in West Windsor called Canal Point. This was built during the peak of the last bubble. I believe this complex saw auctions in the early 90's.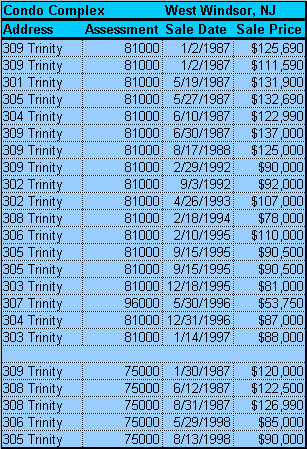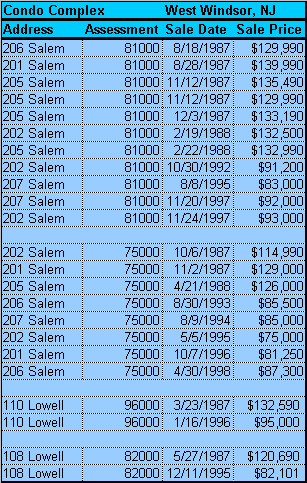 There are a few points to take away from this:
1) Prices can fall dramatically. We're not talking about a stagnant market where real values are eroded over time by inflation, but large nominal price declines. None of these numbers are inflation adjusted. Can you imagine buying a condo for $130,000 and it being worth $93,000 ten years later? Real estate goes down too.
2) Don't be lulled into a false sense of security because you are planning on staying for 10 years. In many of these cases, the market declined steadily for ten years before hitting bottom. It took another bubble for them to break even.
3) There have been a number of comments lately stating that owners will simply take their properties off the market during a downturn, they just won't sell. That simply isn't the case. Many of these owners sold at substantial losses.
Caveat Emptor!
jb (aka Grim)