It's September 1st, as well as Labor Day Weekend, so I'm going to officially close the 2007 real estate season. Unfortunately, the much-hoped-for recovery failed to materialize this year. Given the recent mortgage and credit market crisis, I don't think we'll see a recovery in the near future either.
September 1st traditionally marks the end of the real estate season. There are plenty of reasons for this, and we've talked about them before, so I won't waste the space. Instead, let's take a look at the patterns and sales trends that typically accompany the Fall and Winter seasons.
The first graph displays sales from August to February, from 2000 to 2006. This range was chosen because it illustrates the summer "peak" as well as the typical winter "trough".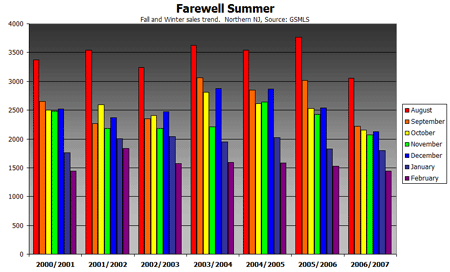 (click to enlarge)
The second graph shows the same sales period and trends, however, it is displayed as the monthly drop in sales from the August "peak":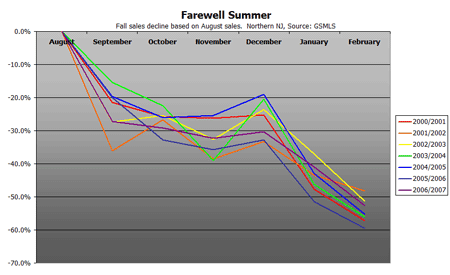 (click to enlarge)
By February, monthly closed sales fall to roughly 50% of the volume seen during the summer "peak" months.
Caveat Emptor!