Jayne and I were both home from work earlier than usual yesterday. We decided to take advantage of the little light left in the day and take the dog to the park. We packed up as usual and off we went, a normal day. We walked up the block, and rounded the corner towards the park, and were about half way through the 2 minute walk to get there. We walked passed a two family house with a large pile of cardboard boxes out front. I noticed these the other day too, odd since we were nowhere near "recycling day". The neighbors were obviously upset about this, since there was a nastygram from someone on the pile of boxes, and a sticker from the trash pickup about when recycling came around.
I muttered something to my wife about the "neighborhood going to hell", and got a dirty look in return. About this time I noticed a yellow form taped up on the door, at first I thought it might have been a notice from the police about the trash. I couldn't help myself, I had to go see. So I walked over, and couldn't believe what I saw.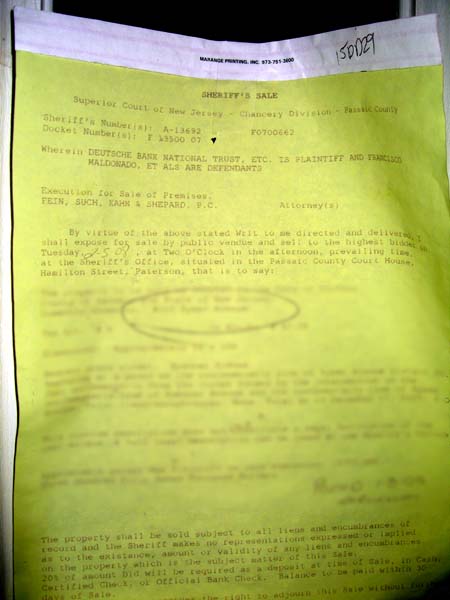 I'm not sure why it came as such a shock to me, I look at these things all day long. I've sat through Sheriff Sales on a number of occasions, and while they aren't particularly uplifting, they usually aren't ever shocking
Jayne, wanting nothing to do with my nosiness, was down the block already. I called for her to come back and take a look, she did. She managed to get out an "Oh my god", and looked pretty shocked herself.
Was it just that I didn't expect it? I did. Maybe I just didn't expect it to hit someone so close to home?