According to S&P Case Shiller, NY Metro Area home prices are down 6.6% in the past year, and down 8.05% from the peak set in June of 2006: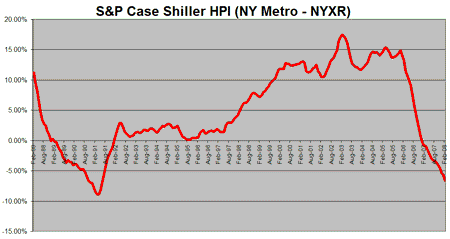 (click to enlarge)
From Standard and Poor's:
Steep Declines in Home Prices Continued in February 2008 According to the S&P/Case-Shiller® Home Price Indices (PDF)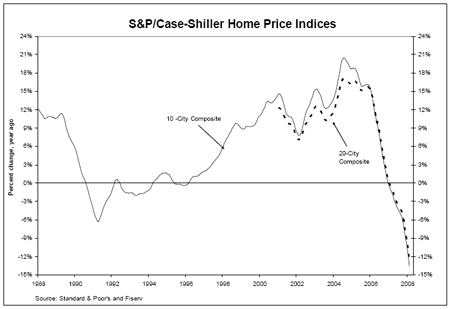 "There is no sign of a bottom in the numbers," says David M. Blitzer, Chairman of the Index Committee at Standard & Poor's. "Prices of single family homes continue to drop across the nation. All 20 metro areas were in the red for the February-over-January reading. In addition, 19 of the 20 MSAs are still reporting negative annual returns. The monthly data show that every one of the MSAs has now declined every month since September 2007, marking six consecutive months. On top of that, remained steep the declines have with eight of the 20 MSAs and both composites reporting their single largest monthly decline in February."
From MarketWatch:
Home prices fall record 12.7% in past year, Case-Shiller say
The decline in U.S. home prices quickened in February, with prices down a record 12.7% in the past year for 20 key cities, according to the Case-Shiller home price index released Tuesday by Standard & Poor's. "There is no sign of a bottom in the numbers," said David M. Blitzer, chairman of the index committee at Standard & Poor's. Prices in 19 of the 20 cities have fallen over the past year, with prices in all 20 cities falling month-to-month for six straight months. The biggest declines were in Las Vegas and Miami, with declines of more than 20% in the past year. Prices in Charlotte, N.C., are up 1.5%.
From Bloomberg:
S&P/Case-Shiller U.S. Home-Price Index Fell 12.7%
Home prices in 20 U.S. metropolitan areas fell in February by the most on record, pointing to an imbalance between supply and demand that shows no sign of ending.

The S&P/Case-Shiller home-price index dropped 12.7 percent from a year earlier, more than forecast and the most since the figures were first published in 2001. The gauge has fallen every month since January 2007.

Prices will probably keep sliding as foreclosures push even more properties onto the market just as stricter lending rules limit the number of qualified buyers. Shrinking home values have contributed to a slowdown in consumer spending that may already have tipped the economy into a recession.

"We're going to continue in this abyss for a while," said Ellen Zentner, an economist at Bank of Tokyo-Mitsubishi UFJ Ltd. in New York. "Inventories are getting worked off but it's a slow process. Sales and prices will go down."

Prices dropped 2.6 percent in February from a month earlier, after a 2.4 percent decline in January, the report showed. The figures aren't adjusted for seasonal effects, so economists prefer to focus on year-over-year changes instead of month-to-month.

The index was forecast to drop 12 percent following a 10.7 percent drop in January, according to the median estimate of 14 economists surveyed by Bloomberg News. Estimates ranged from declines of 12.6 percent to 11 percent.

The group's 10-city composite index, with a history back to 1987, fell 13.6 percent in the 12 months ended in February, also the most ever.
From Reuters via CNBC:
Home Prices Tumble Again; 'No Sign of a Bottom'
Prices of existing US single-family homes extended their slump in February, with 17 of the 20 measured regions posting record annual declines, according to the Standard & Poor's/Case Shiller home price index Tuesday.

The composite month-over-month index of 20 metropolitan areas fell 2.6 percent to 175.94 in February from January, for an annual drop of 12.7 percent.

S&P said its composite month-over-month index of 10 metro areas slid 2.8 percent in February to 190.58, for an record annual decline of 13.6 percent.

Eight of the top 20 metro areas, as well as both composite measures had their biggest monthly declines in February, S&P said in the release.