Today's comp killer comes to us courtesy of Luxist
Turns out football superstar Terrell Owens is significantly underwater on his Moorestown, NJ estate.
His property, on Cove and Landing in Moorestown, was purchased in May of 2004 for an astounding $3.9 million dollars. The property is currently listed by Prudential Fox and Roach Realtors.
Spread out over 5.7 acres, the estate features 5 bedrooms, 9 bathrooms, 3 car garage, adult game room, roman path, pool, jacuzzis, and on and on.
Luxist reports that this listing came on the market at $3.4 million, $500,000 under the 2004 purchase price. Current asking price on the property is $2.96 million, $940,000 below purchase, or approximately a 25% cut from the original purchase price. A steal for a home that was featured on MTV Cribs!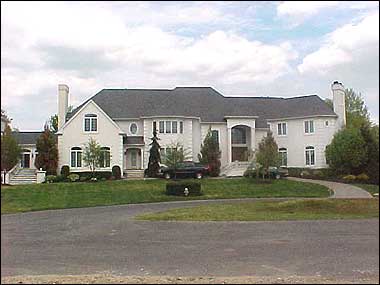 Turns out that Owens originally listed the property for sale for $4.399 million according to the Inquirer Early Word Blog in a report back from 2006. That would put this property at roughtly 38% under the original list price. Another article in the Inquirer puts the original list date sometime in October of 2005, a year and a half or so after purchase.
Update, 7:52am
Gets even better, found another Prudential Fox and Roach listing via Trulia that puts the current asking at $2.675 million. The property is now listed at $1.225 million below purchase, a 31% discount to Owens' original purchase price and an amazing 44% below the original list price.