Updated the S&P Case Shiller Home Price Index graphs with the November release data. These graphs show all indicies for the NY Metro Commutable Area. As the name implies, this price index covers regions that are within commutable distance to New York City and does include other states. New to the series is the condo index, which has been added to the graphs.
The aggregate index shows home prices in this region peaking in June of 2006. The total price decline to date in the aggregate index is 13.45%. The tiered price index gives us a bit more visibility into the price movement of different categories of homes.
Low Tier (Under $320407) – Peaked in October 2006 and is down 15.52% from peak
Mid Tier ($320407 – $476338) – Peaked in September 2006 and is down 14.76% from peak
High Tier (Over $476338) – Peaked in June 2006 and is down 9.72% from peak
Aggregate (Overall Market) – Peaked in June 2006 and is down 13.45% from peak
The first graph is the year over year change in the index.

(click to enlarge)
The second graph is straight index value.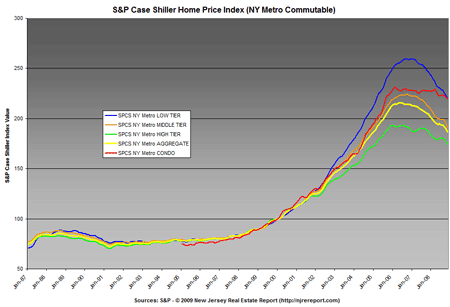 (click to enlarge)
It is still too early to be calling for any kind of bottom in the region. Unlike other regions that show home price declines beginning to slow, the declines appear to be accelerating in our region. In fact, the most recent data point is the steepest decline since the last cycle. The rate of decline peaked at 8.9% in March of 1991. See below:
S&P CS NY Commutable Year over Year Price Change
Jan 07 -0.34%
Feb 07 -0.91%
Mar 07 -0.91%
Apr 07 -1.56%
May 07 -2.35%
Jun 07 -2.94%
Jul 07 -3.20%
Aug 07 -3.35%
Sep 07 -3.60%
Oct 07 -4.09%
Nov 07 -4.61%
Dec 07 -5.48%
Jan 08 -5.80%
Feb 08 -6.70%
Mar 08 -7.48%
Apr 08 -7.98%
May 08 -7.74%
Jun 08 -7.04%
Jul 08 -7.03%
Aug 08 -6.60%
Sep 08 -7.13%
Oct 08 -7.65%
Nov 08 -8.59%