Ridgewood Ave, Glen Ridge, New Jersey
Upscale – Check
Desirable – Check
Great Schools – Check (Some would say best-in-state)
Train Town – Check (Jitney at your door!)
Best Street in Town – Check
Mega Comp Killer – Damn Right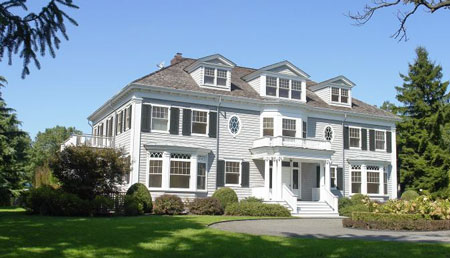 This beauty was purchased in June of 2006 by a Lehman Brothers Senior VP. Built in 2002, this baby has got it all, new world materials and old world craftsmanship. 6 Bedrooms, 9 Baths, and 10 other rooms that comprise an 8,900 square foot monument to excess. Taxes? 80 grand.
Purchase price? $3,700,000.00 (Yep, three point seven million)
Fast forward to September 17th, 2008, two days after the Lehman bankruptcy was announced, coincidentally.
Back on the market, this time at a price of $3,900,000.00. Factoring in the 5% commission, the seller would be walking away with roughly $3.7 million at this asking price, two years later and you break even, not too shabby. What real estate crash?
Come October, still not sold. I don't get it, upscale train town with a great school system? This place should have been snapped up in a.. snap? Guess not, price reduced to $3,675,000.
Another month goes by, now we're well into November. Still no sale. Price reduced again, $3,350,000. Now we're firmly into loss territory. Factoring in commission, we're at roughly a half a million dollar loss here. Surely no problem for a baller of this caliber.
December? Snooze.
January? Snip, price cut to $2,999,000.
Now we're talking about serious cash. $701,000 under what they paid for it. Factor in that pesky 5% commission and now we're at a loss of $851,000 in a little over two years.
Comes out to roughly a 10% per year loss, 20% off peak. Not so bad I guess, outperformed the stock market. Oh, wait, one catch… It still hasn't sold.
Note: Like Lehman, I too forgot to take LEVERAGE into account as a factor of risk. In this case, if the owner made a 20% down payment on the property, the loss would have been roughly 100%.