First, hat tip to Calculated Risk for posting the information and drawing attention to the shadow inventory issue:
Zillow: High Percentage of Homeowners Waiting for a Market Turnaround
From Zillow:
Homeowner Confidence Shrinks; Most Americans Now Believe Their Home's Value Has Declined
As for selling activity, it's clear a significant number of potential sellers are holding back due to the current market. When asked about future plans to sell, 31 percent of homeowners said they would be at least "somewhat likely" to put their homes on the market in the next 12 months if they saw signs of a real estate market turnaround(3).
…
Humphries continued, "Also interesting is the information we have for the first time this quarter on the levels of 'shadow inventory' – homes that people would like to sell but that aren't currently on the market, and thus aren't captured in the official number of homes on the market. With almost a third of homeowners poised to jump into the market at the first sign of stabilization, this could create a steady stream of new inventory adding to already record-high inventory levels, thus keeping downward pressure on home prices."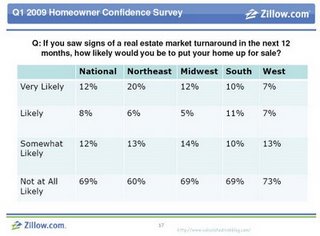 We've heard plenty of talking heads mention the loads of fence sitters, pent-up demand, and sideline buyers just waiting to jump into the market, but what about pent-up supply? Sellers on the sidelines, waiting for a better market to sell their homes? While pent-up demand creates a price floor, because buyers move in to the market when prices fall, pent-up supply causes a pricing ceiling, as sellers list homes when they see signs of price improvement. In the current market, the pent-up supply will do worse than cause a price ceiling, it'll cause further downward pressure on prices.
According to the Zillow data, some 20% of homeowners surveyed in the Northeast would be very likely to list their home for sale, a percentage significantly higher than in any other area. Roughly 40% of those surveyed indicated some interest in selling? If even a half of those surveyed follow through, the amount of shadow inventory is staggering.
And yet another reason why we're not at the bottom yet, and why home prices will not rebound quickly after the crash.