Ok, ok, everyone has been buzzing about how Serge Aleynikov stole some code from GS. For those who don't know the story, google it or read the Reuters story. But I'll sum it up for the lazy ones. Serge was a VP at GS, and before he resigned in June, he downloaded some code and sent it off to somewhere in Europe. GS realized this and had him arrested by the FBI over at Newark Airport for stealing trade secrets.
Oh, quick note to the journalists out there, it is "code" and not "codes" that he stole. The plural of code in this context is code. We're talking about source code and not the secret nuclear missile launch codes.
Anyway, I was curious when it mentioned that he lived in North Caldwell. Always like to see what kind of digs these high-end GS hackers live in. For those outside of this area, North Caldwell is considered a relatively prestigious town. Non-Jerseyans might recognize it as the town Tony Soprano lived in.
Well, I didn't find any tax record pointing to a person with that name owning property in North Caldwell (he might rent, or have very recently purchased), but I did find a tax record pointing to a property owned in Little Falls.
Turns out that Serge bought a house during the bubble and has been unsuccessfully trying to unload it for almost a year now.
Looks like Serge purchased the Little Falls house in September of 2004 for $600,000.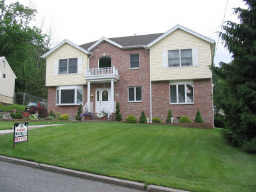 The first listing, MLS# 2568742, came on the market in August of 2008 for $689,000. This one was reduced to $629k before it was withdrawn at about the 6 month mark. A new listing, MLS$ 2644967, came on in February of this year, at $629k. That one was also reduced before being withdrawn. Last list price on that listing was $579,900, below with 2004 purchase price of $600k. The most recent listing, MLS$ 2689816, came on in May, at $550k, where it has sat for the past month.
Now, I won't go so far as to posit some sort of link between these events, I'll leave that up to you.
Update
The Aleynikov residence was also listed as being available for lease with an availability date of June 1st.
Another interesting coincidence, the complaint filed by GS mentions that they believe the alleged theft began on June 1st or thereabouts. Aleynikov left GS on June 5th or so. Was the plan to have already left NJ and moved to Chicago to take this new position? Was this in the works since last August, when the property was put up for sale?