From Bloomberg: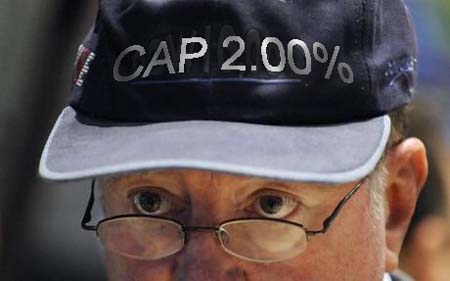 Christie Signs 2% Cap on New Jersey Property Taxes
New Jersey Governor Chris Christie, whose state has the highest property taxes in the U.S., signed legislation capping annual increases in the levies at 2 percent.

The measure reduces the current 4 percent threshold on real-estate taxes, the prime funding source for schools and local governments, and cuts the number of exemptions to four from 14. Christie, a first-term Republican, said the new limits will affect calendar-year budgets that begin in January 2011.

Christie and the Democratic-led Legislature agreed on the cap July 3 after lawmakers resisted his call for a constitutional amendment limiting the increases to 2.5 percent. The governor vetoed an earlier 2.9 percent statutory limit approved by lawmakers as he called a special session of the Legislature and pushed for stricter restrictions.

"This is all about making New Jersey affordable again," Christie said. "We've waited 30 years for a solution to the property tax problem in New Jersey and we've waited for politicians to fix it. They didn't. This puts the solution in your hands."
…
New Jersey property taxes rose 72 percent from 1999 to 2009 to an average of $7,281, according to data from the state Department of Community Affairs. Towns, schools and counties raised a total of $24 billion through the levy last year.

Christie, the first Republican elected governor of New Jersey since 1997, defeated Democrat Jon Corzine in November after pledging to end chronic budget deficits without raising sales, personal-income or business taxes. He has said curbing increases in local property taxes would make the state more affordable for residents and help it lure new businesses.