From the Federal Reserve:
Beige Book – Second District–New York
Construction and Real Estate

Housing markets have softened somewhat, on balance, since the last report, with much of the weakening attributed to the expiration of the home-buyer tax credit. An authority on New Jersey's housing industry characterizes housing demand as sluggish and lacking momentum. Activity has tapered off, while transaction prices for both new and existing homes appear to be drifting down. Northern New Jersey's rental market has also slackened, with a growing number of available units on the market and landlords offering more incentives and concessions; a number of buildings initially intended as condos have converted to rentals. Similarly, Buffalo-area Realtors report that home sales activity weakened substantially in May and June, reportedly due largely to the expiration of the extended homebuyers' tax credit, though selling prices continued to run ahead of comparable 2009 levels.

In New York City, conditions were more mixed, with co-op and condo sales activity picking up in the second quarter but prices generally holding steady. The number of apartment sales rose by a bit more than the seasonal norm in the first quarter. The median sales price of an apartment was down 7 percent from a year ago in Queens but up 5 percent in Brooklyn. In Manhattan, the median price rose roughly 8 percent from a year earlier, but the price per square foot was virtually unchanged. Manhattan's rental market, though still well below its peak of a few years ago, appears to be on the rebound: leasing activity picked up noticeably, rents have stabilized, landlords are giving less generous concessions, and the inventory of available rentals has declined.
From Jeff Otteau's Monthly Newsletter (no link):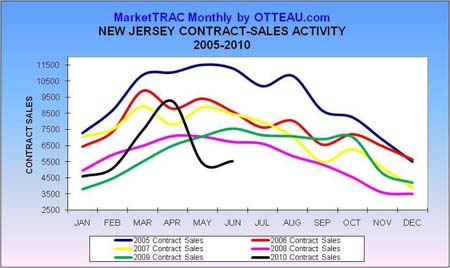 Purchase contracts to buy a home in New Jersey declined for the 2nd consecutive month, compared to one year ago, providing a grim outlook for what's ahead in the housing market. In June, purchase contracts declined by 27% which followed a 23% decline in May for the worst performance of the past 6 years.