From CNBC:
Pending Home Sales Sink 2.6 Percent in June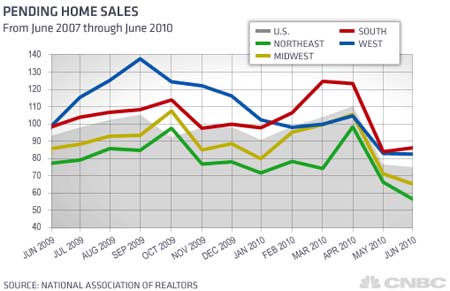 From the AP:
Pending home sales sink 2.6 percent in June
he number of buyers who signed contracts to purchase homes dropped in June, as the weak economy and tight lending standards kept consumers away from the housing market.

The National Association of Realtors said Tuesday that its seasonally adjusted index of sales agreements for previously occupied homes dipped 2.6 percent to a reading of 75.7.

That was the lowest on records dating back to 2001 and down nearly 19 percent from the same month a year earlier. The index has fallen more than 40 percent from its peak in April 2005. May's reading was revised slightly downward to 77.7.
From Bloomberg:
Pending Sales of Existing U.S. Homes Decrease 2.6%
The number of contracts to purchase previously owned houses unexpectedly fell in June, indicating demand kept unraveling after the expiration of a homebuyer tax credit.
…
"We're still seeing the aftereffects of the homebuyer tax credit expiration," said Dean Maki, chief U.S. economist at Barclays Capital Inc. in New York, who forecast a decline in June pending home sales. "The comeback from the housing downturn is likely to be sluggish."
…
Three of the four regions showed a decline in June, today's report showed, led by a 12 percent drop in the Northeast. Pending sales fell 9.5 percent in the Midwest and 0.2 percent in the West. They rose 3.7 percent in the South.

Compared with June 2009, nationwide pending sales dropped 20 percent.
From the AFP:
Pending US home sales down to nine-year low
The number of contracts signed to purchase existing homes in the United States unexpectedly fell in June to its lowest level in nine years, private data showed Tuesday.