From the PMI Group (the mortgage insurance company):
Economic and Real Estate Trends – 2010 Q3
(I'm pointing this out because when you are writing insurance against mortgages, it is probably good business to know where home prices are going.)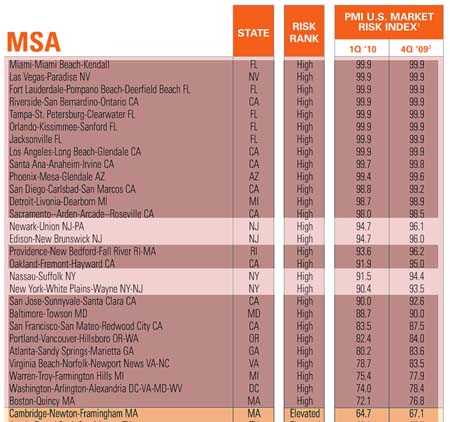 (click to enlarge)
The PMI US Market Risk Index is published quarterly, and attempts to gauge the probability of home prices declines over the next two years. A score of 100 means the index is predicting, with a 100% probability, that home prices will fall.
While the index has improved for Northern NJ in the first quarter of this year, over the 4th quarter of last year, the risk of further home price declines is still extraordinarily high.
The risk of home prices declines in the Newark-Union, NJ-PA MSA stood at 94.7% in Q1 down from 96.1% in Q4.
* Essex County, NJ
* Union County, NJ
* Morris County, NJ
* Sussex County, NJ
* Hunterdon County, NJ
* Pike County, PA
The risk index for the Edison-New Brunswick, NJ MSA was also 94.7% in Q1 down from 96.0% in Q4.
* Middlesex County
* Monmouth County
* Ocean County
* Somerset County
New York-White Plains-Wayne, NY-NJ was 90.4%, down from 93.5% in Q4.
* Kings County (Brooklyn), NY
* Queens County, NY
* New York County (Manhattan), NY
* Bronx County, NY
* Richmond County (Staten Island), NY
* Westchester County, NY
* Bergen County, NJ
* Hudson County, NJ
* Passaic County, NJ
* Rockland County, NY
* Putnam County, NY
Nassau-Suffolk rounds out the NY Metropolitan Area at a 91.5%, down from 94.4%
* Suffolk County
* Nassau County

(click to enlarge)
While the PMI Group does break out only the largest metropolitan areas in their reporting, they do provide a graphical illustration of home price decline risk, which shows all of New Jersey and some of the surrounding areas firmly in the red (highest risk areas).