Was doing some shopping last night, and came across the following sign taped to a cash register at a local small business. Are we really so sure the recession is over?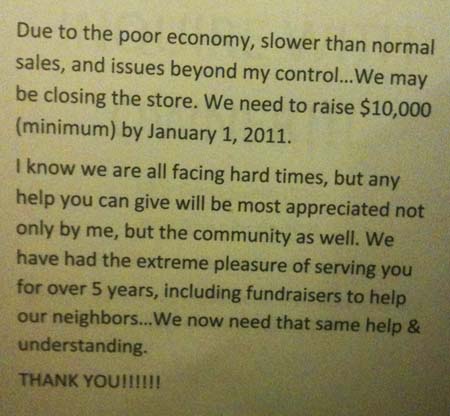 Coincidentally… From the AP via the Cherry Hill Courier Post this morning:
Business survey: Mood is downbeat in N.J.
Some small business owners surveyed across New Jersey remain pessimistic about their short-term future.The New Jersey Business and Industry Association Tuesday released results from its annual survey. Nine percent of the membership, or 1,311 members, responded. More than three-quarters of those respondents represented small businesses.

Most respondents said they did not expect a significant economic upturn in the first half of next year. Many said business picked up slightly this year. But they reported that sales and profits remain at recession levels.

"Despite improving business conditions, most companies are still struggling to shake off this terrible recession," said NJBIA President Philip Kirschner.