From HousingWire:
New York shadow inventory extends past ten years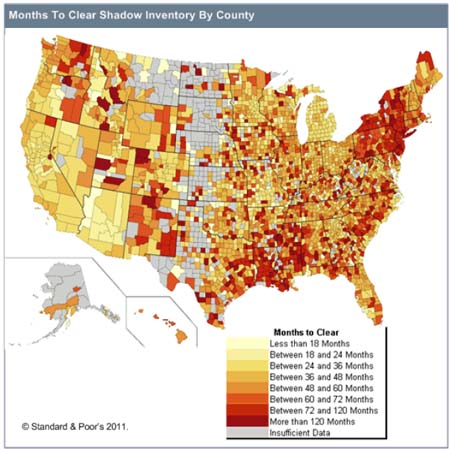 (click to enlarge)
The shadow inventory in the state of New York — properties with mortgage borrowers more than 90 days delinquent — will take around 154 months to clear.

That's nearly 13 years of unsold property supply.

In the case of shadow inventory, a meaningfully strong housing market will not grow to vibrancy unless homes where the borrower is not likely to amortize are resold.

The number of such homes in New York greatly outweighs the national average of 49 months, according to a Standard & Poor's research note released this week.

S&P says the Empire State is slow to expedite liquidations. New York is one of 21 judicial states, where courts hear foreclosure cases, which means it should take longer than usual. However, a foreclosure mediation program from 2008 is also partially to blame, though the analysts says this still isn't enough to explain the statewide phenomenon.