From HousingWire:
Home prices, sales still stagnant in April: RadarLogic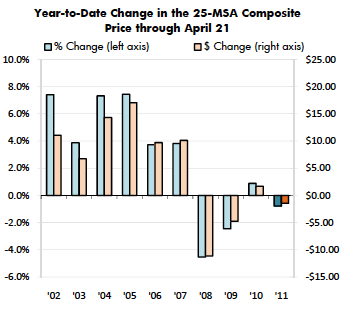 Prospects in the housing market remain glum as the weaker then expected spring buying season pushes prices and transaction counts down.

In April, home prices deteriorated 5.1% compared the same month of 2010 when the first-time homebuyer tax credit was in place, according to RadarLogic's RPX Housing Market Report released Thursday. RadarLogic reported price declines in all 25 metropolitan statistical areas that it tracks, with Boston experiencing the largest drop of 21.8% compared to April 2010.

The data tracking firm did note that prices increased 2% between March and April, a "large gain" compared to years past. And most of the major MSAs under RadarLogic's watch reported price gains on a monthly basis. However, the good news is short lived, as the year-to-date change in home price was negative for only the third time in the last 10 years.

"The decline in the composite price from January to March was so large that the large seasonal bounce in April was not enough to bring the year-to-date change into positive territory," RadarLogic said.

The changes in the RPX composite price index were consistent with the data released by the Federal Housing Finance Agency Wednesday, which found a scant 0.8% increase in home price between March and April.