From the Otteau Group (no link):
NJ Home Sales Record 31% Increase in January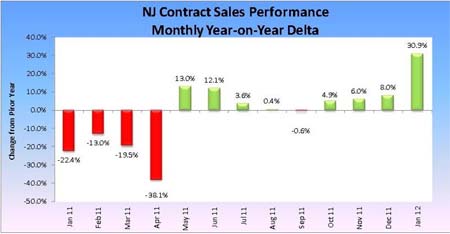 Given the malaise in the housing market in recent years, a double digit increase in purchase demand is a big deal. What's even more impressive is that this increase occurred in the month of January, and without homebuyer tax credits stimulating demand. Housing demand in New Jersey exploded off the chart in January with 4,700 home-purchase contracts which equates to a 31% increase compared to one year earlier. That performance exceeded the 4,600 recorded in January 2010 when home sales surged due to the availability of home buyer tax credits, and was the best since 2008. Certainly the mild January weather had a hand in this compared to last year's heavy snow accumulations. But an increase of this magnitude extends beyond a weather related influence.