From the Otteau Group:
July Purchase Activity Shifts Back in to High Gear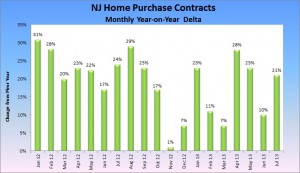 Home purchase demand in New Jersey shifted back in to high gear with another double digit-increase. In July, signed purchase-contracts rose by 21% compared to one year ago. This follows a smaller increase in June as rising home prices and mortgage interest rates caused a pause in buying activity.