This is probably the strongest showing yet, and finally good indication that NJ is making forward progress on reducing the number of foreclosures and outstanding mortgage delinquencies.
For state foreclosure performance, you can see that NJ ranked second best in terms of foreclosure inventory reduction, dropping a full percentage point in comparison to Florida with their very strong 1.6% (Florida is very quick to foreclose, and has the ability to support a significantly larger pipeline than NJ). Serious delinquencies down a strong 1.2% year over year.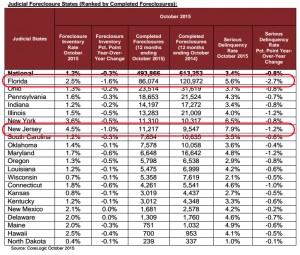 Metro area performance for the broader NY metro area are also making strong progress with a large 0.7% year over year reduction in foreclosure inventory, and second highest drop in serious delinquencies, 1.1% compared to a 1.7% in Chicago.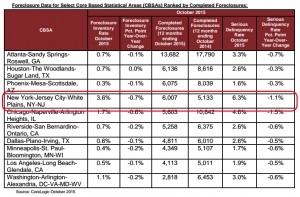 NJ will continue to remain on top for at least another year, however we're finally starting to see solid progress being made on reducing inventory and delinquencies, dare I say an end seems to be in sight. I'm not calling all clear, not by a long shot. It won't be until we pass terminal foreclosure velocity and start to see the YOY numbers drop can we say that. A good number of states have already made it over that hurdle and are coasting back down to what would be considered a longer-run average.