From the NYT:
Middle-Income Jobs Finally Show Signs of a Rebound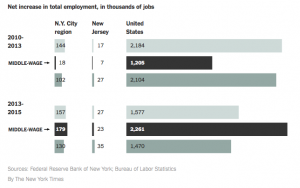 The American economy is finally creating more middle-income jobs, according to a new analysis released Thursday by the Federal Reserve Bank of New York, in a turnabout from the feast-and-famine pattern earlier in the recovery, when hiring was strongest at the bottom and top of the wage scale.

The findings suggest that it may soon be time to retire a familiar criticism of the long but lackluster economic rebound that has been underway since the end of the Great Recession in 2009: the hollowing out of the American middle class.

Between 2013 and 2015, employers added nearly 2.3 million workers earning from $30,000 to $60,000 a year, primarily in fields like education, construction, transportation and social services. That was roughly 50 percent more than in either the high-wage or low-wage categories during the same period.

By contrast, the Fed researchers found, of the nearly 7.6 million jobs created from 2010 to 2013, only about a fifth fell into the middle-tier category, with the largest number instead coming from lower-paid sectors like food preparation and health care support.

"The tide has begun to turn," said William C. Dudley, president of the New York Fed. "For the first time in quite a while, we are seeing gains in middle-wage jobs actually outnumber gains in higher- and lower-wage jobs nationwide."
…
The nascent national improvement identified by the Fed researchers in New York also held true in the metropolitan region in recent years, with New York City and surrounding suburbs adding 179,000 middle-wage jobs from 2013 to 2015, compared with just 18,000 from 2010 to 2013.