Haven't gotten a chance to post this one, but it needs to be posted. From the Star Ledger:
How every town in N.J. rates on income inequality
Despite what Montclair wants you to believe, outside of the typical wealth enclaves like Saddle River, Far Hills, Deal and the like, Montclair ranks as pretty much the most unequal large town in New Jersey. There are few towns in NJ that show such a blatantly obvious amount of geographic segregation as Montclair, less than 1 mile separates some of the wealthiest residents of NJ from some of it's poorest.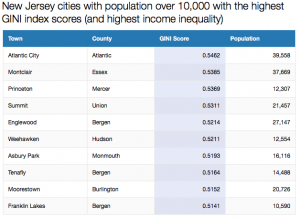 So what's more important, creating an image of being inclusive and equal, or actually being it? Turns out, there are large swaths of Essex, Passaic, Bergen, and Hudson counties that are more diverse, and more equal, than Montclair.
So what gives? How did Montclair manage to create an image of itself that is almost entirely undeserving? The inclusive educational system? The town's wealthiest residents have no problem packing Montclair Kimberly full, despite the fact that the yearly tuition is $30,000, making it one of the most expensive private schools in NJ. Sending 3 kids to MKA will cost you north of a million dollars, by the way. Good number of 4th Ward residents probably don't even make $30,000 a year, let alone pay that for school.
Seems like a load of bullshit to me, especially when neighboring Clifton is more diverse and integrated. Are there towns that are less diverse and wealthier than Montclair? Absolutely, but they aren't hell bent on creating an image that really appears to be completely manufactured marketing, and not reality. Having just come back from Brazil, I've got to say, the wealth gaps are pretty similar.
Seems like a great place to live if you are rich and want to feel good about yourself.