From NJ101.5: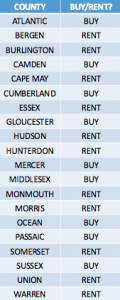 Should you buy or rent? A county-by-county list for NJ
To make that decision a bit easier, real estate database ATTOM Data Solutions has released a report that breaks down the math in New Jersey's housing markets and determines whether it's more affordable to rent a three-bedroom home or buy one in each of them.

The report analyzed nearly all of New Jersey's counties — all but Salem — using 2017 fair market rent data from the U.S. Department of Housing and Urban Development, wage data from the Bureau of Labor Statistics and 2016 public record sales deed data.

Based on monthly payments alone, ATTOM found it's more affordable to rent than buy in 55 percent of New Jersey's markets, or 11 counties: Bergen, Essex, Hudson, Monmouth, Union, Morris, Burlington, Somerset, Hunterdon, Warren and Cape May.

Monthly rent in Union County was calculated at about $1,700, for example, compared to a mortgage payment of more than $2,300, including property taxes and interest.

In the other nine counties, mortgage payments were found to be cheaper than monthly rent. In Cumberland County, owning a home was calculated at just $870 per month, compared to $1,570 monthly to rent.