A glimpse into what NJ's urban future will look like. Ever increasing property taxes will create a situation where the urban poor can no longer afford to even pay their property taxes, leading to property tax foreclosures in massive numbers.
NJ's rapid increase in property taxes over the last 15 years has barely even been mentioned as a factor in driving foreclosures during the crisis, but it's absolutely the fact. Rapidly rising tax payments create an identical situation to resetting adjustable rate mortgages and unexpected increases in monthly payments … without corresponding increases in wages.
So take a good look NJ, because you are looking at the future of NJ's cities.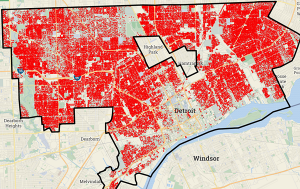 From the Detroit Metro Times:
Here is a horrifying map that shows every Detroit tax foreclosure since 2002
We all know tax foreclosures are a problem in Detroit, but this map from Loveland Technologies really puts the horror of the situation into perspective. Shown are all of the properties that have been foreclosed and sold at auction in the city over the past 15 years.

Michigan law allows for the foreclosure and seizure of properties with three or more years of back taxes. The properties then get sold at auction to try to recoup some money lost. People then get displaced. The houses they lived in then sometimes go vacant. Vacancy leads to blight. Blight leads to depressed property values. You see the problem.

Wayne County has foreclosed on more than 160,00 properties since 2002, with the bulk of them in Detroit.