From Bloomberg: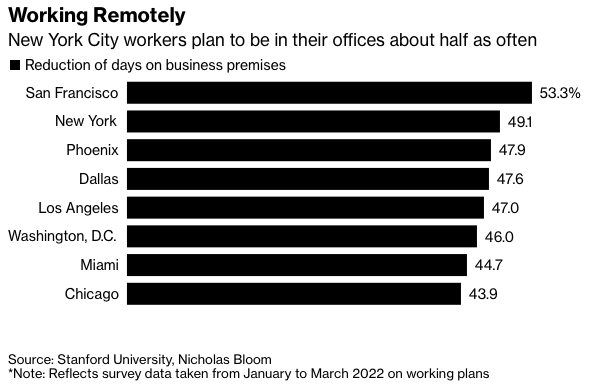 Most New Yorkers who worked from home during the pandemic plan to cut their time in the office by nearly half and spend less money in the city annually, illustrating the challenges the city faces as companies adjust to hybrid schedules.
The average New York City office worker intends to reduce time in the office by 49% and slash annual spending in the city by $6,730, down from an estimated $12,561 before the pandemic, according to Nicholas Bloom, an economics professor at Stanford University.
At a conference at the Federal Reserve Bank of New York Thursday, Bloom said the remote work push could cost New York between 5% and 10% of its city-center population, softening real-estate values, but that "the city will continue to thrive." 
…
New York City is second to San Francisco in terms of reduction of time in the office, but first in terms of decreased spending.
"People used to live in cities because they had to come into the office five days a week," said Bloom, who has surveyed about 5,000 workers and 1,000 companies about their work habits and policies throughout the pandemic. "If they don't have to, and they want a backyard, they move out to the suburbs. We see that across cities, and call it the doughnut effect."