From ATTOM Real Estate: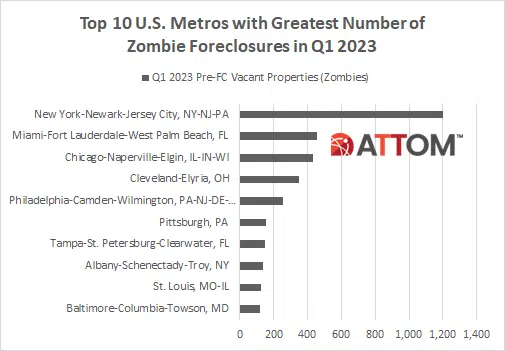 From the Record:
The flight from offices triggered by the COVID-19 pandemic showed no signs of abating in this year's first quarter, with north and central New Jersey's office vacancy rate reaching its highest level since the Great Recession, according to a report Monday.
The vacancy rate was 25.8%, nearing the 26% recorded in 2009 in the wake of the global financial crisis, according to the quarterly analysis released by JLL, an East Rutherford-based real estate services firm.
"The first three months of 2023 were overshadowed by macroeconomic uncertainties, which provided headwinds to office demand," the report said.
That continued the upward climb of the pandemic years. The vacancy rate was 24.5% at the end of 2022, JLL said. The firm cited "restrained demand" as well as consolidations of existing office space. About 1.8 million square feet of space came onto the market in this year's first quarter, according to the report.
Hudson River waterfront properties saw the biggest declines. The largest deal signed in the quarter involved drugmaker Sanofi's leasing of 260,000 square feet at the planned M Station West building in Morristown. The company will relocate its operations from Bridgewater in phases during late 2024 and early 2025, JLL said.
"Some companies are still looking to see what they want to do with their workspace going forward," said Steven Jenco, director of New Jersey research at JLL. "Companies are still trying to feel out their return to office, how much space they're going to need going forward."  
…
Overall, New Jersey had 168 million square feet of office inventory in north and central new Jersey in the first quarter: 101 million in the north with a 26.8% vacancy rate, and 67 million in Central Jersey with a 24% vacancy rate, according to the JLL report.