Enjoy!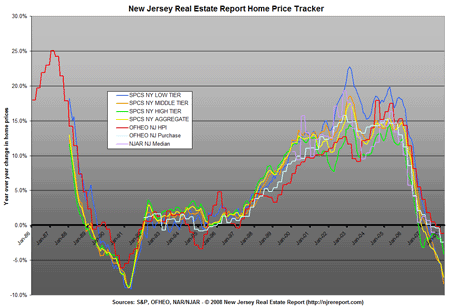 (click to enlarge)
Notes:
OFHEO HPI and Purchase Only Index are both quarterly state-level series.
S&P Case Shiller Index is a monthly series and is based on the NYC Commutable Metro Area. This index includes areas outside of New Jersey.
NAR/NJAR Index is a quarterly state-level series based on MLS data.
OFHEO and HPI Indicies are based on repeat sales, NAR/NJAR is a simple median.
S&P Case Shiller Tier Rankings are as follows:
Low: Under $327733
Middle: $327733 – $469975
High: Over $469975
(as of March 2008)
Source data can be found here:
NJ Home Price Tracker Spreadsheet (XLS)
Hat tip to Pretorius for aggregating the bulk of this data and providing the concept. I'll be adding the OFHEO MSA level data in the next day or two.