If the last real estate bubble that hit NJ is any indication of where the market might go, we're still a long way off from the bottom.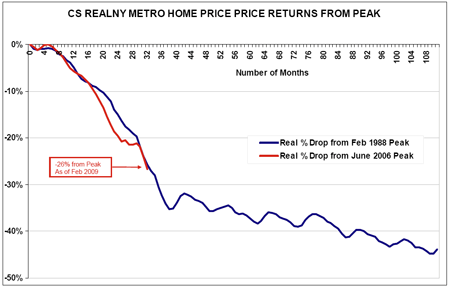 (click to enlarge)
A few points.
If you aren't familiar with the last real estate bubble, please read up on it here: Home Prices Do Fall.
If you are wondering why your agent hasn't mentioned anything about a prior bubble, or has said something completely stupid like "Home prices don't ever fall, the NAR said so", don't be too hard on them. According to the NJ Association of Realtors 2008 Member Profile, the median sales agent has 6 years experience. You read that right, at least 50% of all agents have never known any market other than a bubble. And since there is no history section of the licensing exam, they would have no reason to study it. The median of all roles (includes brokers, etc), only goes back 10 years, not much better. We've got an entire industry that has never known anything but "up up up!".
Keep in mind we're talking about "real" prices here, not nominal. This means the prices have been adjusted for inflation to show the true appreciation (or depreciation) of an asset. If nominal prices are flat over a long period of time, real prices will be declining by the amount of inflation over that period. While some say this might overstate the depth of the declines, this adjustment is necessary to ensure that we're working with an apples to apples kind of comparison, especially over long periods of time.
What does my gut say? We're in for at least another year of sharp price declines in NJ. Following that, we will likely see 2-3 years of completely flat nominal prices with declining real prices. Peak affordability (based on price and incomes, not financing) will likely be hit towards the tail end of the flat period.
Thanks to Veto and Kettle for putting the time and effort into creating this graph. Hopefully they'll keep it updated, and I'll keep posting it.