From LoanPerformance:
National HPI for September – Home Prices Down 9.8% vs 2008
National home prices, including distressed sales, declined by -7.8 percent in October 2009 compared to October 2008, according to First American CoreLogic and its LoanPerformance Home Price Index (HPI). This was an improvement over September's year-over-year price decline of -9.5 percent.* On a month-over-month basis, however, national home prices declined by -0.7 percent in October 2009 compared to September 2009.
…
Including distressed transactions, the HPI has fallen -30.1 percent from its peak in April 2006. Excluding distressed properties, the national HPI has fallen -21.5 percent from the same peak.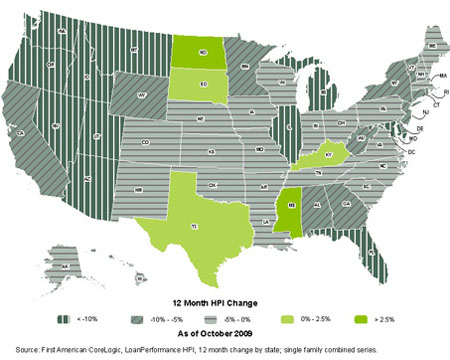 LoanPerformance National HPI 12 Month Change: – 7.8%, Single Family Combined Series, October 2009
New York-White Plains-Wayne NY-NJ*
Single Family Combined -11.10%
Excluding Distressed -7.74%
*Includes the following counties:
Kings County (Brooklyn), NY
Queens County, NY
New York County (Manhattan), NY
Bronx County, NY
Richmond County
Westchester County, NY
Bergen County, NJ
Hudson County, NJ
Passaic County, NJ
Rockland County, NY
Putnam County, NY