From MacroMarkets:
Home Price Expectations Continue to Dim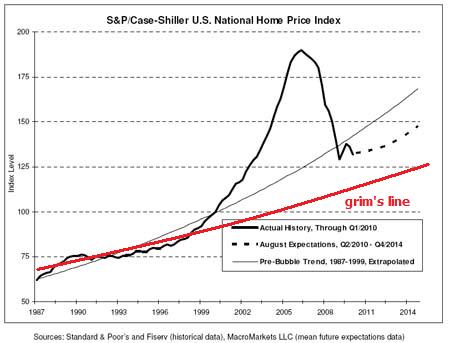 "For the third consecutive month, the consensus from the experts indicates weakened overall
confidence in the U.S. housing recovery, with only 21% of our panelists now predicting positive growth in prices nation-wide for 2010, and average expected cumulative price appreciation through 2014 falling almost one-third since our inaugural survey just three months ago," said Robert Shiller, MacroMarkets co-founder and chief economist.
…
Although the average projections of the survey panel have continued to dim, a wide range of views among some of the survey panelists persists, and the August survey data confirms that a path to housing recovery remains intact. Terry Loebs, MacroMarkets managing director reported, "The slope of the expected recovery path, although flattening, remains positive and implies a $1.4 trillion gain in aggregate U.S. homeowner equity from current levels by the end of 2014, assuming that other relevant factors such as mortgage debt levels do not change."
From HousingWire:
House Price Outlook Continues to Dim
Based on today's report that found new home sales plunged to record lows in July housing analysts said they may have been too conservative in estimations in this case, but are keen not to make the mistake again.

The just released August MacroMarkets home price expectations survey, compiled from 107 responses of a diverse group of economists, real estate experts, investment and market strategists, is titled "Home Price Expectations Continue to Dim."

The MacroMarkets index is assuming house price declines for the remainder of the year, with cumulative negative activity likely until 2012 and beyond.