Jeffery Otteau reports contracts signed, not closed sales. This is a more timely indicator of market activity, since closed sales represent purchase activity from approximately 2 months prior. Contracts is also a forward looking predictor of closed sales over the next 1-3 months. Given the declining trend in contracts in NJ, the sales numbers we saw yesterday were not an anomaly, and that trend appears to be firmly in place for at least the next few months, absent another round of government subsidization of course.
Otteau's commentary is a bit surprising, since he usually takes a bit of a more upbeat tone, or at least he had for the last year or so. His point about sales activity being significantly depressed at what would otherwise be the strongest market of the year, is an important one. We are clearly witnessing a market that is no longer acting true to it's normal seasonal variations.
From the Otteau Group:
Housing Slide Continues During Prime Selling Months (no link)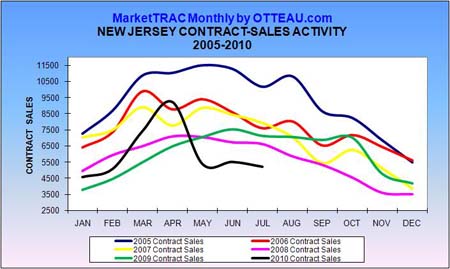 Home purchase contracts to buy a home in New Jersey fell for the third consecutive month following the expiration of the federal home buyer tax credit on April 30th. These recent declines have occurred during what would otherwise be among the strongest months for home sales leading up to the seasonal slowdown in the fall and winter. In July home sales were off by 27% in New Jersey compared to one year ago, which follows declines of 23% in May and 27% in June.