From the Otteau Valuation Group:
MarketNEWS – November 2010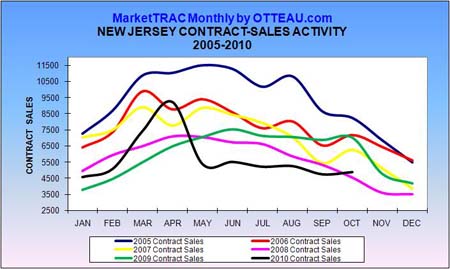 The New Jersey housing market continued to experience weak purchase demand in October due to the lingering effects of the economic recession. In October, home purchase contracts in New Jersey for both existing and new homes fell by 30% from one year ago, marking the 6th consecutive month of declining sales. To put some perspective on present pace of sales, the chart below shows that October's performance essentially matched that from 2 years ago in the midst of the worldwide economic collapse following Lehman Brothers bankruptcy in September 2008.