From the Movoto Blog:
Real World Monopoly: Marvin Gardens is the New Boardwalk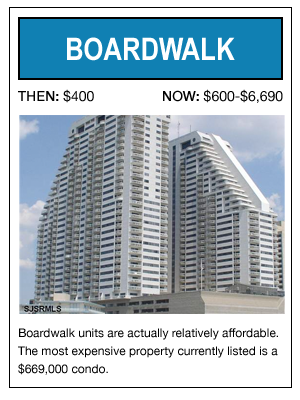 We were both renters and landlords, we fought over who could be the 'car' and we hid stashes of $100s under the board. Monopoly took hold on generations as one of the most famous board games in the world. Perhaps it was because we made huge investing mistakes, had terrible luck, went belly up, but could start over the next day. And unlike in real life, you could get out of jail for free.

Movoto Real Estate thought it would be fun to put on a top hat or thimble and take a spin around the board to revisit the properties that made up Monopoly. Since we're a real estate company, it makes sense that we try and make comparisons between the properties that Monopoly was originally based on and those same properties as they exist today. Movoto found some interesting tidbits and some surprises, too.