From Jeff Otteau's Monthly MarketNEWS Update:
July Purchase Contracts Rise 24%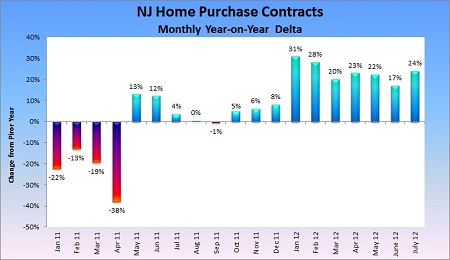 The New Jersey housing market turned in another strong month in July with home purchase contracts increasing 24% compared to the same month last year. YTD purchase activity through July 31st has increased 23% over last year with no signs of a slowdown. The July increase is the tenth consecutive month that sales have increased since a modest 1% decline in September 2011.

Complimenting the rise in purchase activity is a 17% decline in Unsold Inventory this year. There are presently 59,700 homes being offered for sale in New Jersey which is the lowest inventory since 2005.

Based upon the current pace of sales, today's unsold inventory equates to 8.9 months of sales compared to 13.3 months 1 year ago. Hudson County has the lowest unsold inventory in the state with 6.2 months followed by Bergen County with 6.4 months. At the other end of the spectrum are Atlantic and Cumberland Counties with 18.0 and 24.8 months, respectively.

The combined effects of the 17% decline in unsold inventory with a 23% increase in purchase demand are rebalancing the dynamics of the housing market toward price stability in 2012. Early signs of this improvement can be seen in median home prices which declined by 0.5% in Q2 2012, the slowest pace since Q1 2011. Median prices actually increased in 9 of the state's 21 counties during Q2 suggesting that statewide prices will increase in the second half of the year.