From the Otteau Group:
Home Purchases Accelerating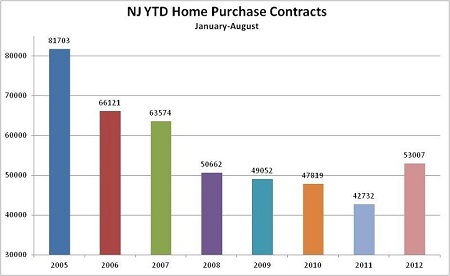 Home purchase demand continues to rise in New Jersey where purchase-contracts increased in August by 29% y-o-y for the 11th consecutive month. Going back to May 2011, housing demand has increased in 15-of-16 months. The improvement comes as a result of lower home prices and mortgage rates, increased buyer confidence and an extremely favorable rent-to-own comparison. YTD purchase contracts in New Jersey have risen 24%, to the highest level since 2007. Even more impressive is that the 2012 sales pace is 11% above the 2010 pace, which benefitted from homebuyer tax credits at that time.