You are fooling nobody bud, you are clearly a hipster in a yuppie disguise. Also, be it noted, white men can't tag.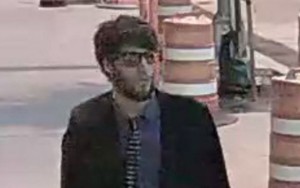 From the Jersey Journal:
Photos show alleged vandal behind 'Go home yuppie scum' graffiti in Jersey City
Police are seeking the public's help in identifying a man seen in new security footage allegedly spray painting "GO HOME YUPPIE SCUM!" on a new residential building next to City Hall.

Eric and Paul Silverman, the developers behind the new building, Charles & Co., released photos of the man, who tagged the Grove Street building on June 13.

The alleged vandal is a white male with a thin build, dark hair and a beard. He was caught on video footage tagging the Montgomery Street side of Charles & Co. at about 5 a.m. that Saturday. The graffiti was gone by noon, and the Silvermans estimate the damage to be in excess of $2,750.

In the footage, he is dressed in business casual clothing, including a blazer and a tie. He is wearing sunglasses.
…
The graffiti was found the same week Downtown Jersey City residents debated a new, anti-gentrification campaign that used "go home yuppie scum" as one of its slogans.