From the Star Ledger: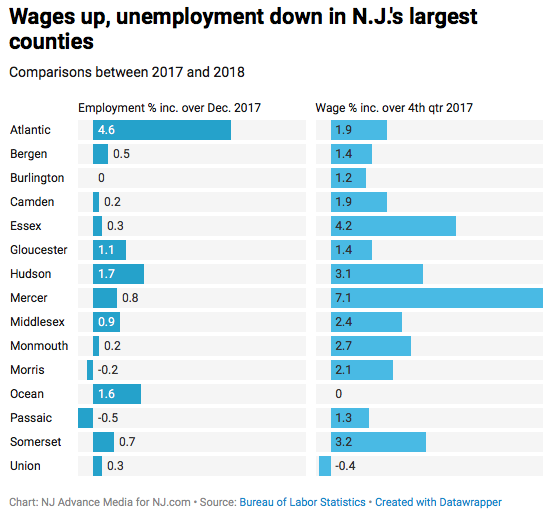 Wages in Mercer County rose by 7.1 percent last year, the largest increase in New Jersey and one of the biggest in the country, according to a report released Friday.
The U.S. Bureau of Labor Statistics released its numbers for the state's 15 largest counties, defined as those with at least 75,000 workers on average. The report came out on the same day that the bureau said that 224,000 new jobs were created nationwide last month.
…
Wages increased in 14 of the 15 large counties, and employment rose in 12 of the 15, continuing an economic trend that began under President Barack Obama and kept going under his successor, President Trump. The 15 counties account for 91 percent of the state's jobs.
The increase in wages in Mercer County in the fourth quarter of 2018 compared with the same period a year ago was the 13th biggest boost among the 349 largest counties nationwide.
The average percentage increase in employment in New Jersey in December 2018 compared with December 2017 was 0.8 percent and the average boost in wages was 2.7 percent. That trailed the national averages of 1.5 percent and 3.2 percent respectively.