From Fortune: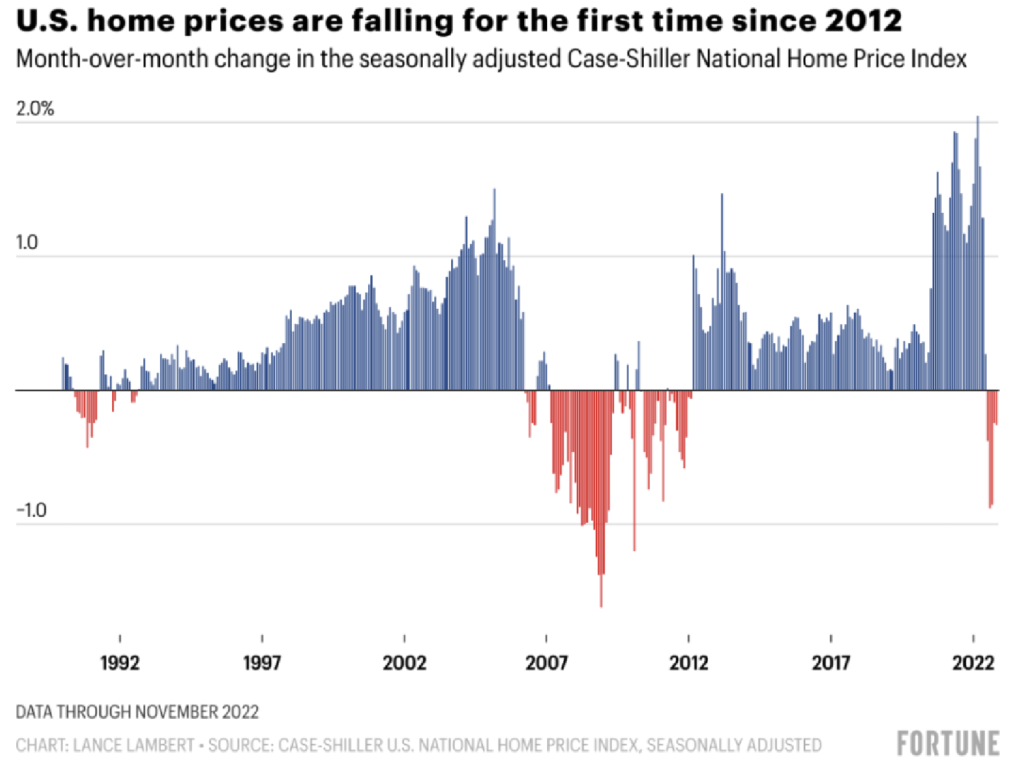 From US News and World Report:
Home Prices Continue to Come Down as Higher Mortgage Rates Bite
Home prices continued their downward slide in November, though they remain up year over year, according to the CoreLogic Case-Shiller monthly index released on Tuesday.
Nationally, prices fell 0.6% in November, but are up 7.7% annually, following October's 9.2% increase.
Miami, Tampa and Atlanta led the cities posting the largest increases, at 18.4%, 16.9% and 12.4%, respectively.
"November 2022 marked the fifth consecutive month of declining home prices in the U.S.," said Craig J. Lazzara, managing director at S&P DJI. "As the Federal Reserve moves interest rates higher, mortgage financing continues to be a headwind for home prices. "Economic weakness, including the possibility of a recession, would also constrain potential buyers. Given these prospects for a challenging macroeconomic environment, home prices may well continue to weaken."
The data reflect prices before mortgage rates topped 7% and various markets continue to see declines in the rate of appreciation.
"The latest S&P Case-Shiller report provides evidence of the slowing housing market during the fall, with home prices continuing to decelerate in October," Lisa Sturtevant, Bright MLS chief economist, said before the release. "However, the data released today do not account for the full impact of rising mortgage rates, which were above 7% in November.