From RentCafe: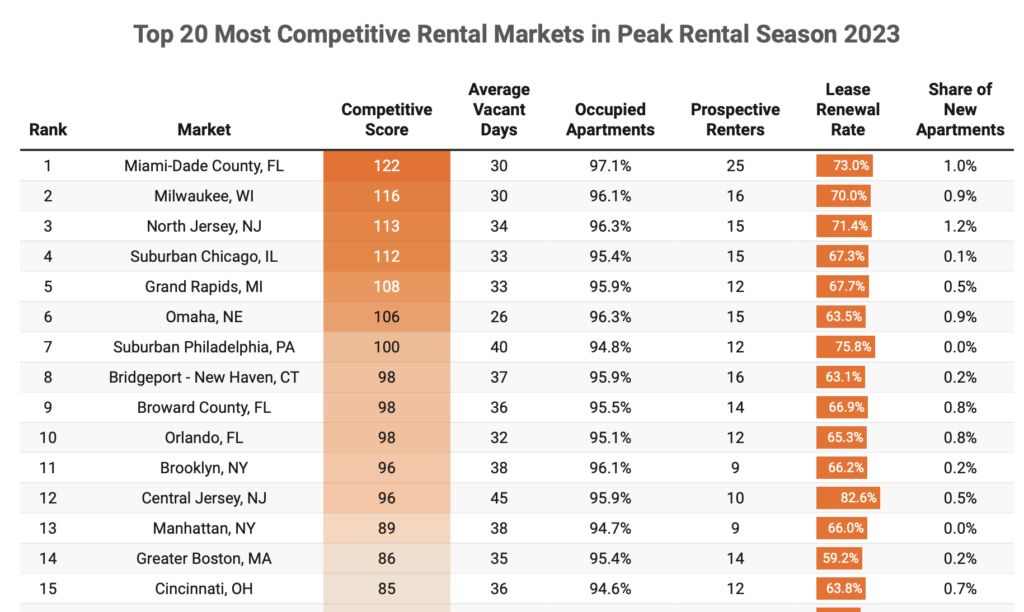 While the Midwest is flexing its muscle in peak rental season, we're seeing rising competition in the Northeast,as well. The main reason for this is New York's remarkable progress in recovering from the pandemic's economic effects: The city is very close to fully restoring its employment levels, according to a recent report by the NYC Economic Development Corporation.
However, New York is not an affordable place to live, so North Jersey (RCI score 113) is the perfect choice for people who want to live close to the attractions in the Big Apple, but who are not willing to pay steep living costs. Thus, North Jersey is the third-most competitive rental market nationwide and the hottest renting spot in the Northeast.
Including places like Jersey City and Newark — as well as smaller locations scattered across the counties of Bergen, Essex, Hudson, Morris, Passaic, Sussex and Union — America's third-most competitive rental market is still seriously undersupplied, even with a 1.19% increase in recently built apartments. That's why 71.4% of renters here renewed their leases, pushing the occupancy rate to 96.3% in peak rental season. On average, available units are occupied within 34 days, with 15 prospective renters competing for one vacant apartment.
Coming in 11th nationwide, Brooklyn, NY, is a hot renting spot for those who love the thrill of New York Cityas it offers a great combination of more affordable housing than Manhattan, in addition to convenience and amenities. Here again, the borough's supply of apartments is far from keeping up with demand: Recently built units only account for 0.16% of the total housing stock, which prompted two-thirds (66.2%) of renters to stay put this summer. This led to an occupancy rate of 96.1% in peak rental season. Meanwhile, the average vacant apartment is filled within 38 days, with nine people competing for it.
What's more, the number of office workers returning to Manhattan is on the rise, which is helping boost the local economy and create jobs — all while fueling competition for rental apartments. So, Manhattan joins our top 20 for the first time since the pandemic, claiming 13th place. Plus, with zero apartments opened recently, 66% of apartment dwellers chose to stay put during peak rental season. As a result, Manhattan has an occupancy rate of 94.7%. There are also nine renters vying for each vacant unit, which becomes occupied within 38 days, on average.